WOMEN AND MALTING
This picture of malt-workers at the Bungay Staithe maltings in 1914 shows the effect of the War on the local workforce. Women were recruited to take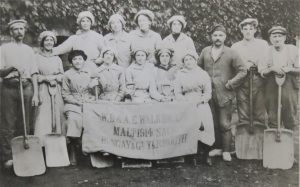 the place of men who had gone to the Front. Given the heavy nature of the work, this must have been a controversial step and it would have been interesting to have first-hand accounts of how this necessary experiment (which ended as soon as the War was over) worked.
The firm of W D and A E Walker owned not only maltings in Bungay and Yarmouth (and elsewhere) but also the New Cut maltings in Halesworth, which they had bought in 1908. It seems likely that they would also have employed women in Halesworth and that the other maltings in the town also took on women workers for the duration. But so far there is no positive evidence.
Does anyone know better? If so, please contact the Malt Project on www.halesworthmalt.org/contact-us/
Photograph courtesy of Bungay Museum
A TALE OF TWO RIVERS
One of Halesworth's brand new Malt Trail panels has sparked controversy within the town.
The panel, which stands next to the outline of a wherry constructed beside the New Reach by local craftsmen as part of the Malt Project, refers to the river which runs through the Town Park, parallel to the Reach, as the River Blyth, provoking some local residents to protest that this is not the Blyth at all but a tributary, better known to some as the Town River.
But historical probing by the Project's Research Team has shown that, although the current Ordnance Survey map shows the Blyth as rising in Laxfield and passing through Heveningham and Walpole before running to the south of the town, earlier Ordnance Survey maps are equally clear that it was the Blyth which ran through the centre of Halesworth.
The earliest mention so far found to the River Blyth shares that view. The author of The Chorography of Suffolk, written around 1600, says "At Wisset springeth the river Blith & runneth to Haleswrth where it is augmented by the receyt of a little river springing at Ubpeston. From Halesworth it runneth to Wenhawesto' & Blithborowe & dischargeth it selfe into the sea at Walderswick."
Halesworth & District Museum would like to hear from anyone who can throw further light on this interesting and perplexing question. E-mail us on www.halesworthmalt.org/contact-us/